Traxxas 3370 Velineon VXL-3m Brushless Power System, waterproof (includes waterproof VXL-3m ESC and Velineon 380 motor)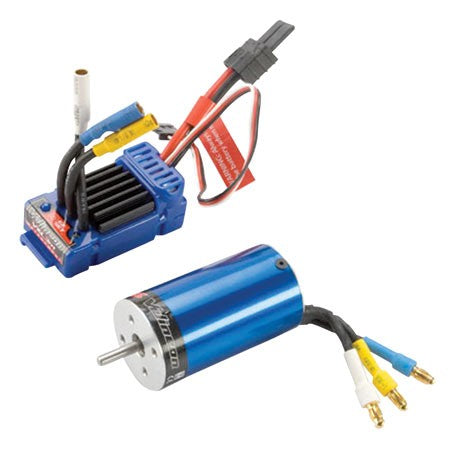 Features
Traxxas High-Current Connector maintains pure, unrestricted power flow from the battery to the brushless power system.
Built-in two-stage low voltage detection for Lithium Polymer (LiPo) battery use provides a clear signal to the driver that the battery pack is nearing its minimum voltage threshold
Wide range of battery options, including 6-12 cell NiMH or NiCad packs
The patent-pending Training Mode™ is an exclusive Traxxas feature that reduces the overall power output of the VXL-3m by 50%, making it easier for new or younger drivers to control their model. When they're ready, simply change profiles to unleash full-throttle action.
Advanced circuit design allows sensorless brushless motors to operate with the smoothness and precision of the best brushed systems. There's no need for additional sensor wiring and hardware complexity.
The VXL-3m is programmable with three drive profiles: Sport mode, Race mode, and Training mode
Water resistent case design uses rubber seals and o-rings to protect against damage caused by water and moisture.
Micro-fin aluminum heatsink dissipates heat.
MOSFET design provides high-current output (326 amp peak) with incredibly low resistance (.0005 (Ohm)).
Gold plated 3.5mm bullet connectors on 16-gauge Maxx® Cable flow full power to the motor without performance-strangling resistance.


Overview
The Velineon® VXL-3m forward/reverse electronic speed control simplifies brushless technology with easy, built-in profiles and intuitive programming. The VXL-3m™ uses advanced circuit design that allows sensorless brushless motors to operate with the smoothness and precision of the best brushed systems. It sets up, operates, and programs just like the Traxxas XL-5™ family of ESCs so there's no tricky new procedures to learn. Traxxas' exclusive patent-pending Training Mode™ is also included to limit full throttle to 50% for young or inexperienced drivers. For the most advanced users, the VXL-3m is equipped with two-stage low voltage detection to allow LiPo battery use, including powerful 11.1-volt 3S packs!
Please allow 2-3 days for your order to be processed and shipped. You will be notified of the shipment tracking number via the e-mail address you have provided us when the package has been sent. Currently, we will only ship to the address that matches the billing address registered to your credit card. Trying to create an order with a credit card that doesn't match your delivery can result in the cancellation of your order.