Traxxas 6507R TQi 2.4 GHz High Output 4-Channel Radio System with Traxxas Link Wireless Module, TSM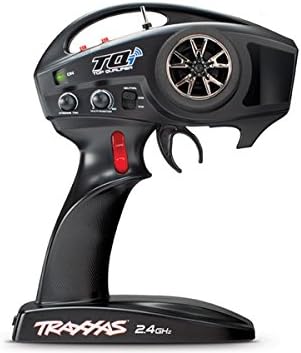 4-channel TQi Transmitter features model memory for up to 30 models with simple 2-button programming Interface and built in failsafe
Includes #6511 Traxxas Link Wireless Module for Traxxas Link App expandability with your mobile device
5-channel receiver with Traxxas Stability Management (TSM) accepts optional telemetry sensors
Traxxas Link app provides visual access to real-time telemetry and customizable dashboards on your mobile device
Direct Sequence Spread Spectrum Technology (DSSS) uses only 4 AA batteries
The Traxxas TQi radio system features a full complement of tuning features; long-range, 4-channel versatility, high-output, 2.4GHz signal, access to real-time telemetry feedback, and Traxxas reliability. TQi is equipped with a Traxxas Link Wireless Module that turns your Android or Apple iOS device into a powerful tuning tool. The full-color display combines with the Traxxas Link App to deliver an intuitive, high-definition, full-color graphical user interface. The Traxxas Link Wireless Module is compatible with Android 4.4+ or Apple iOS 4.3+ platforms. This powerful app gives you complete control over the operation and tuning of your Traxxas model with stunning visuals and absolute precision. Traxxas Link app gives you the tools for exacting adjustment and superior control while always keeping you informed on your model's status and speed. New Traxxas Stability Management allows arrow-straight acceleration on slippery surfaces without loss of control. TSM also makes high speed cornering corrections in the background for you, without unexpected side effects. The TQi radio system automatically keeps track of what vehicles it has bound to and what settings were used for each. Traxxas Link provides a visual interface to see the transmitter's model history, name the models, customize their settings, attach profiles, and lock them into memory. Traxxas Link and TQi store settings for up to 30 models. The factory settings for all Traxxas models are pre-programmed so adding a new model to your transmitter is a snap. Traxxas Link collects and records telemetry data as you drive with optional sensors installed. Traxxas Link dashboard shows you speed, battery voltage, RPM, and temperature. Set threshold warnings and log maximums, minimums, or averages. Use the recording function to document your dashboard view, with sound, so that you can keep your eyes on your driving. Simply touch Instant Replay anytime to capture the previous minute of fun and unexpected triumphs.
What's in the box
TQi 2.4 GHz transmitter; 5-channel TQi receiver with TSM; Traxxas Link Wireless Module
Please allow 2-3 days for your order to be processed and shipped. You will be notified of the shipment tracking number via the e-mail address you have provided us when the package has been sent. Currently, we will only ship to the address that matches the billing address registered to your credit card. Trying to create an order with a credit card that doesn't match your delivery can result in the cancellation of your order.